in case
anyone wanted to know, i reached my target of 52 gigs for this year. and
i'm
still counting. i won't do a rundown of the best ones yet as i suspect Patrick Wolf will have to take up a slot with
his finale on the 20

th

December
.
on
thursday
i saw
Foals
at Camden barfly as part of the Levi's Ones To Watch events. they were on such better form than they were at
leeds
fest, rattling out the tunes, a few new songs thrown in for fun.
the end of their set was "cut short" due to a stage invasion that prompted
Yannis
to throw his guitar down and storm offstage. as the person who started that stage invasion
i'd
just like to say '
wtf
?'.
i'm
a bit sick of bands getting annoyed at people being enthusiastic. fair enough if everyone wanted to steal their equipment/beat the crap out of them/insert other bad things. but they didn't. i, for one, was happy enough dancing. i think more people should be grateful that they actually inspire people to dance. things could be worse; you could always be in a band that sounds like
Embrace
. not
hatin
' though! Foals are a fantastic band and
Yannis
is a lovely bloke. i guess everyone gets dramatic from time to time.
Foals -

Hollaback

Girl
(Gwen
Stefani
cover,
xfm
session)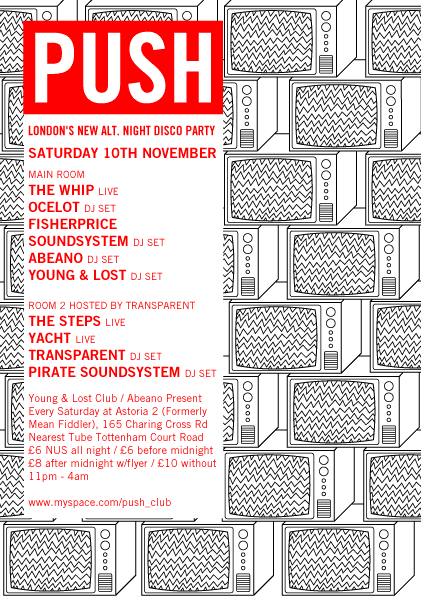 saturday
was
YACHT
and
The Whip
at
Push
. both of whom were
fantastic
.
YACHT jumped around the crowd like a madman and the crowd jumped too. i cannot even begin to explain YACHT.

YACHT - The Magic Beat
(do what you love, love what you do - the best life philosophy ever)
The Whip make music that really doesn't sound like it comes from
Levenshulme
.
electro
beats with crushing
guitars
and intros that can work even grunge lovers into dancing frenzies. their single 'Sister Siam' is out today! buy it
here
.
The Whip -

Divebomb