okay okay between moving boxes, packing up nearly everything in my room (slowly) and praying it doesn't rain this weekend, i have been listening to some music.
i got sent the
Modernaire
remix of
Metronomy
's single '
Heartbreaker
' and it sounds pretty bloody ace. the single is out
Monday
and the band are playing
Offset Festival
this weekend.
Metronomy

-

Heartbreaker

(

Modernaire

Remix)
i'm
all too excited to camp in the forest with (imaginary) bears and whatnot for Offset so i thought, beating
Saam

@

KHI
to it,
i'd
do a quick round-up of some of the bands i am hoping to fit in! there isn't much point in gushing over GO4 because
i'll
do that when i get back.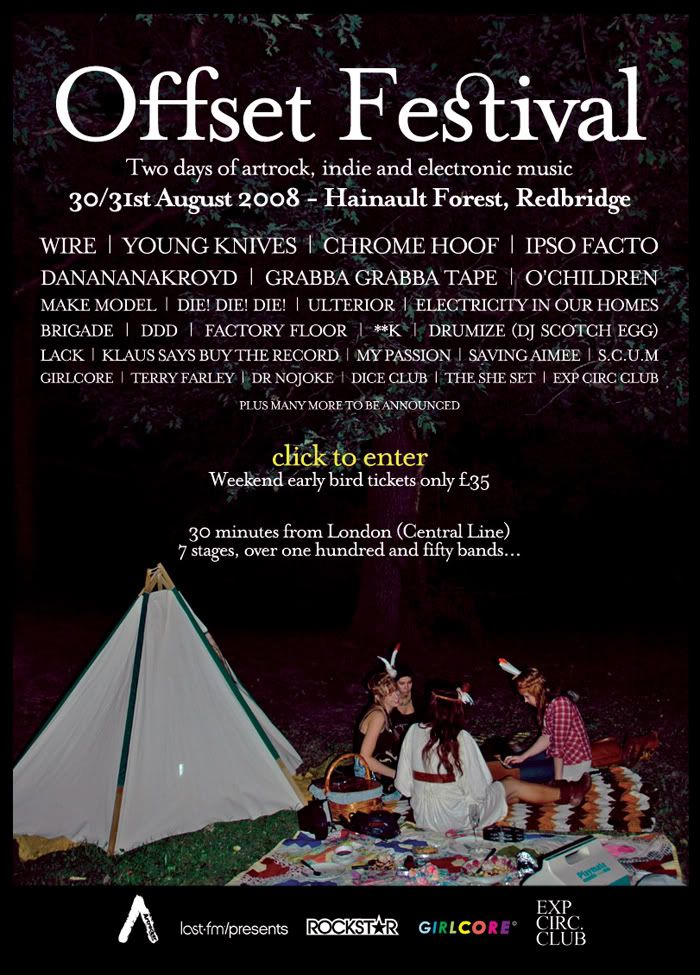 die! die! die!
first of all. i have been waiting to see these for bloody
aaages
. what to expect: abrasive, crunching guitars from the New
Zealanders
.
woop
!
die! die! die! - 155
ddd
are also on my list to see. what to expect: echoes and feedback and distortion and all kinds of exciting things crammed into short, punchy songs.
ddd

- Knives
So So Modern
because they are fantastic live. what to expect: disturbed
electro
fused with screeching guitars.
So So Modern - Piece It Apart
Untitled Musical Project
because i still haven't seen them yet. what to expect: short, fast-paced,
absofuckinglutely
brilliant punk-driven
noisy
songs.
Untitled Musical Project - A Popular Musical Composition
i also have a crazy idea i can fit
JoFo
,
VEGC
,
Situationists
,
PABH
,
Dead Pixels
,
S.C.U.M
,
Metronomy
,
Future Of The Left
,
Popular Workshop
,
Official Secrets Act
and several others into the two day extravaganza.
if there's anyone you think i should get round to seeing please do leave recommendations!
just quickly.. on Monday night i did manage to catch
Be Your Own Pet
's second to last gig ever. it was pretty messy and pretty sweaty. good times had by all! such a shame to see them go.
and that
BT

voting thingy thingy
has opened up again so if you have a spare ten seconds you can
vote for my blog to be on a list with other blogs
hurraaaaah
.
AND (sorry i should really be more
coherent
etc etc)
i'm
moving out on
Friday
and in on
Monday
so i probably won't get to post again before then. not 100% sure when
internet
will be up and running in my new abode but hopefully it won't be too long. :)